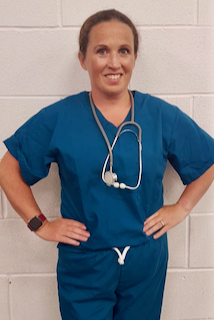 With more letters after her name than in her name, Dr Aisling Hillick-Grogan MB, Bch, BaO, MICGP, MRCPuk, A.D.C.R.G, talks us through her two main passions in life: Medicine and Irish Dance, and how combining these two skills have developed her character in all aspects of her life.
Introduction – Tell us a bit about yourself? What were your favourite subjects at school, where did you study further education?
I grew up in Derry and I am the second oldest of 6 children. I began dancing aged 5 and I have always adored it. I loved everything from the music to dance classes to competing at feiseanna and making friends with dancers from all over the world. I have fond memories of my mum packing the car with the shoes, dresses and a picnic and travelling to feiseanna all over Ireland. We would often leave early in the morning and not be home until late at night.
My favourite subjects at school were maths, sciences and history. I always wanted to be a doctor. However, when I was studying for my A-level years I also explored the options of a career as a medical physicist or medical engineer. Medicine won the battle and in September 1998 I started Queens University of Belfast.
Why did you choose to become a Doctor?
I always wanted to be a doctor growing up. I loved going to the hospital or GP and watching hospital programmes on TV. I loved the smell, the buzz and I was always curious as to what was happening. As I got older and did work experience I was fascinated by the science of medicine, the many disease processes and clinical skills but most of all I wanted to work with and care for people.
What is your professional experience as a medical doctor?
I graduated from University in 2003 and worked as a doctor in many hospitals in general medicine and emergency medicine before specialising in nephrology. I loved my job, it was exciting, challenging and adrenaline filled. I performed procedures, attended clinics and worked on the wards with very sick patients. Together with my colleagues I saw patients with complex medical issues, and we would have to work as a team to solve the mystery. I researched conditions, attended conferences throughout Europe and America. There were great days but there were tough days. I often worked 34 hrs straight and felt exhausted. There were days we may have lost a patient or sometimes I simply felt I could do something better. Unfortunately during these years I was unable to spend much time with my husband, family or dancing. I wanted to spend more time with my husband & family and become more involved with dancing again. I changed direction with my career and trained in Galway to become a GP. I find being a GP allows me to have more work /life balance. I specialise in female and reproductive health, chronic illness, child health and acute medical conditions. I also help with teaching medical students and have been involved in assessing medical students for exams. My day is unpredictable, patients can always present with a wide range of symptoms / illnesses and I must be ready to deal with these. Being a GP allows me to see a variety of medical conditions, to see patients when they are both unwell and in good health and enables me to build trust and form a relationship over time with my patients. For me it is a privilege to be a GP, to be allowed into the lives of my patients and to share in the good and bad times.
It is essential for me to stay up to date. New treatments are developed, guidelines are updated episodically and new research with regards symptoms, diagnosis or treatments of conditions is published continuously. I usually keep up to date in the evening or weekend and it usually involves attending educational meetings, reading journals or researching online.
What is your professional experience as a dancer, teacher, adjudicator?
I danced for Evans School of dancing in Derry and I competed successfully in solo and team competition at Ulster, All Ireland, All Scotland, Great Britain, North American Nationals and World Championships. I stopped dancing competitively at 19yrs when I was in 1st year of university. I achieved my T.C.R.G in 2005 and I successfully became an A.D.C.R.G when I turned 30 in 2010. I became a member of the teaching team with the Mc Cole School in Galway in 2013 (now the Cowhie Ryan Mc Cole School). The high point of my career as an adjudicator was when I adjudicated the World Championships in Greensboro in 2019 alongside my colleagues Claire Mc Cole and Chris Ryan. It was an honour and privilege to sit in the best seat of the house and adjudicate the best dancers in the world. I have also adjudicated many primary and secondary qualifying events including the Great Britain Championships and All Scotland Championships. Through the support of my husband and family and being part of a teaching team, I can combine both Irish dancing and medicine!
How did you handle dancing competitively and studying for University/Medical School?
I continued to dance throughout exam years. I would have been horrified if it was suggested that I cut back in my dancing. I found dancing was a break from study and due to time constraints, I was more focused with my schoolwork and practice.
Did you take time out of dancing to study or did you manage both?
Irish dancing has had a huge impact on my medical career and vice versa. From a young age through Irish dancing I learnt the importance of hard work, sacrifice and discipline. In order to dance at a high level, I had to miss social events, parties and spending time with friends. I had to organise my day and practice after schoolwork despite feeling tired or the late hour and I often brought school work to a feis to do whilst waiting to dance or on the way to or from the feis. It was about setting a goal, working hard for that goal by putting in extra practice and sacrifices then achieving that goal such as winning that trophy/qualifying for the worlds/ success at a major.
On the flip side when I didn't practice or work hard Irish dancing taught me how to deal with disappointment and learning to accept responsibility for it. In other instances, I may have worked hard and the result simply was not what I wanted. Through the support of my parents and teacher I learnt resilience and how to pick myself up, put the disappointment behind me and carry on.
These traits are all vital to be a doctor. I had to have discipline, make sacrifices (dancing) and work hard to succeed in medical school. I understood from a young age what I could gain by working hard and what was at stake if I didn't work as hard as I could. The world of medicine, job interviews, dealing with difficult situations can be very tough. Irish dancing gave me confidence and an understanding that when I was prepared, and the hard work was done I could walk in to that clinical exam or job interview and perform to the best of my ability.
There are times I am disappointed in myself and at times in others. Understanding from a young age to identify what I am responsible for and what is out of my control is key. It helps me deal with situations quickly and move on. Resilience is also very important. I may have to deliver bad news early in the day to a patient or a family. I usually follow this up with a quick cup of tea and chat to a colleague and then I must get on with the rest of the day as I will have a waiting room full of patients to see. I will always debrief at the end of the day or the next day, but I must deal with it and move on. This is not dissimilar to those competition days when a round does not go as planned for a dancer and they still have round 2 and 3 to go! or when a dancer has a bad result at a feis and your teacher tells you to put the disappointment behind, keep your focus and goals and continue to work hard.
In medicine we learn daily from our peers and I feel dancing is similar. I have always respected others and was always keen to watch and learn the different styles, techniques and tricks. I think respecting the competition is important to teach in Irish dancing as it is vital for progression across many professions.
I believe everyone should have hopes and dreams. The journey to achieving these may be bumpy and you may have to re-focus your goals at times, but I would encourage all dancers to never give up on their dreams despite the setbacks.