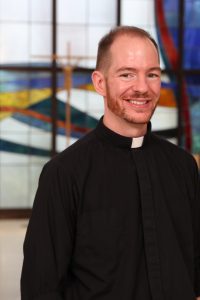 Fr. Ryan Duns is a Jesuit and Assistant Professor of Theology at Marquette University in Milwaukee, Wisconsin, USA.
He is also a feis musician.
---
All around the world, society seems fractured and torn apart. There's so much noise, so many clashing viewpoints. Instead of dialogue, we seem too ready to presume the worst intentions of anyone whose viewpoint differs from ours. Each day, any hope for meaningful or productive discourse fades. Sadly, at time when we need to look critically at hard issues, we are more interested in picking fights with those who disagree with us.
One of the more challenging courses I teach is "Contemplation and Justice in a Violent World". Last semester, the focus was on racism and racial injustice in the United States. We had heated and difficult conversations as students struggled to engage with positions they disagreed with. Our discussions were painful, awkward, but in the end, transformative.
The lesson that proved the most valuable is the difference between generative and degenerative conversations. Let me illustrate with examples from dance class:
A generative or life-giving conversation happens when participants challenge and build on one another's experiences. A good teacher—whether in leading drills or teaching new steps—tries to build on and develop the student's talents. The teacher encourages, challenges, and works really hard to help the dancer or the team to improve.
A degenerative conversation is the opposite. These conversations lead to suspicion, silence, and mistrust. Where generative conversations unite, degenerative conversations divide. All of us, I'm afraid, have experiences of this. A teacher's harsh word can cause a dancer to shut-down; gossip amongst teammates alienate and exclude.
Sometimes, to be sure, generative conversations are difficult. When a problem arises in the class, when a team isn't working together, or when a dancer is not working to full potential, the teacher has to step in to restore order and to remind everyone why she or he is there. The key to a generative conversation is assuming the best intentions of one another and committing oneself to staying with the person even when difficult.
Degenerative conversations, by contrast, turn antagonistic. Instead of trying to build up the group, these conversation tear others down. Scroll through the message boards or scan social media and you'll find no shortage of examples of people who take cheap-shots rather than summoning the courage to do the hard work of engaging others.
Truthfully, I do not know anyone whose heart or mind has been changed because of a hashtag. Sure, it feels good to post a clever rebuttal to one's opponent. But if we want meaningful change in society, it is going to require more than 280 characters. We need to engage in conversation and risk being challenged and growing through dialogue. We need to step out from behind our screens to stand and work in solidarity for justice.
Simply put: Solidarity demands more than hashtags. So here are two challenges:
First, try entering into a generative conversation with someone you disagree with. Not a comment-box war but a real dialogue. You might need to say, "I know we disagree, but I want to learn how you see things." Not every conversation will go smoothly, but hanging in with someone you disagree with gives you a chance to see the person and not just the position you disagree with.
Second, "You've got to be in it to win it." You can't dance at a feis without lacing up your shoes, and you can't stand in solidarity only in theory. Find a concrete way to make your voice heard: Vote, support bail-relief efforts, and embrace opportunities to work for justice.
What I love about Irish dancing is how – whether First Feis or World Champion, Teacher or Musician – everyone's gifts and talents are allowed to enhance our tradition. We can all dance to the same music, we can all join hands in the Cross Reel. Each one of us has something to add. This is what we celebrate at every feis, at every nationals, at every world. No matter who we are or where we come from, we can dance together. For this reason, I am so grateful that you have let me be a part of the Irish dancing community. I am proud to pray with you and play music for you.
My prayer in these difficult times: May each of us take a moment to recall what we love and resolve to share that love with others. Let us pause before we post, asking ourselves whether this comment or post will be generative or degenerative. Let us remember the music and the dance that we love and commit ourselves to showing the world what we dance for … rather than who we stand against.
---
An Coimisiún le Rincí Gaelacha is a global organization that promotes Irish dance to a diverse community of teachers, dancers, and families. Because this diversity enriches our tradition, we stand firmly against racism, injustice, and the marginalization of any peoples.
We seek out and welcome editorial submissions from members of our commonality seeking to educate and advocate for positive change, as they strive to make our society a safer, more whole, and equitable place for all.
Disclaimer: The views and opinions expressed in this article are those of the author and do not necessarily reflect the official policy or position of An Coimisiún le Rincí Gaelacha.