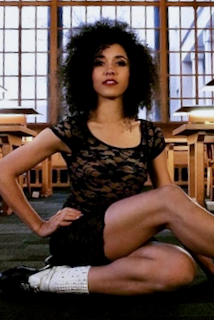 Emily Snell is an award-winning actor, fine artist, dancer and educator from Albuquerque, New Mexico, USA. Her projects have addressed issues such as race, cultural identity, immigration, and the human experience.
The Black Lives Matter movement means so much to me, not only as a human being but as a member of the Black community. If there is anything I can do, say, and share that will help in some way, I will do so. It is inspiring to see the level of support and activism against racial injustice that seemed impossible just five or ten years ago.
Drawing attention to the problem, and bringing understanding to those who either purposely or inadvertently don't understand is very important. In 2016, I participated as an artist in a Black Lives Matter gallery showing at MCLA Gallery 51 to both raise awareness and open a dialogue for African American voices. My piece, Pietas, used traditional Eurocentric art imagery to depict Black characters and hopefully evoke feelings of injustice from those who may not have necessarily thought of a perspective outside their own.
Four years later, there is so much more awareness and outrage, mostly due to the unfortunate apathy and inertia that fizzled out efforts when they cropped up before. There are so many people from all communities who are fired up with emotion right now, and protests are wonderfully effective at garnering attention for a cause, but it's important to also have action behind it that holds authorities accountable for positive change. Follow up with government officials has already been effective at changing things for the better.
Beyond the personal outrage, it's been my current goal to disseminate useful information on actionable items and take these actions myself. It's absolutely wonderful that there is so much energy and drive right now toward fixing a problem that has been around for far too many centuries. It's important that everyone willing and eager to do something about the issue has the resources they need in order to do it.
The most pressing issue, in my opinion, is policy change. Your elected officials work for you, and can be convinced to enact life-saving policies and changes, such as those in the "8 Can't Wait" campaign (eight policies for law enforcement that, if utilized together, can drastically decrease police violence). In addition, some law enforcement positions—such as chief of police—are appointed, but they are typically appointed by the mayor or other city official(s). Local elected officials are the most accessible and usually the most influential for law enforcement policy.
Contacting your city council representatives, mayor, or any other representative to urge them to make specific changes is a very important part of overhauling a broken system. We're not limited to the ideas of others, however. Anyone willing to help can lend their creativity and energy to fixing the problem and pass those ideas along to their elected officials.
Even within the Black community, there is definitely a level of privilege that comes with lighter skin, and as a biracial African American person, I am well aware that I am able to escape racism in certain settings, although I certainly have not escaped it entirely. It's important to make space for Black experiences that may (and should) make other people uncomfortable, but I am aware that I have a level of privilege and it hasn't been my belief that sharing the smaller scars of institutionalized racism that have been a part of my personal experience (the microaggressions and discrimination, taught self-racism, the generational trauma and abuse) is the most impact I can make as an individual.
This problem is so vast and engrained in society, and not limited to law enforcement. It's impossible to say when or how institutionalized racism will be dismantled, although it's been heartening to see many people who have heretofore been in denial take a moment to reflect and change. It is my hope that policy changes can save lives right now as we wait for a time when things are more equal and fair.
---
An Coimisiún le Rincí Gaelacha is a global organization that promotes Irish dance to a diverse community of teachers, dancers, and families. Because this diversity enriches our tradition, we stand firmly against racism, injustice, and the marginalization of any peoples.
We seek out and welcome editorial submissions from members of our commonality seeking to educate and advocate for positive change, as they strive to make our society a safer, more whole, and equitable place for all.
Disclaimer: The views and opinions expressed in this article are those of the author and do not necessarily reflect the official policy or position of An Coimisiún le Rincí Gaelacha.