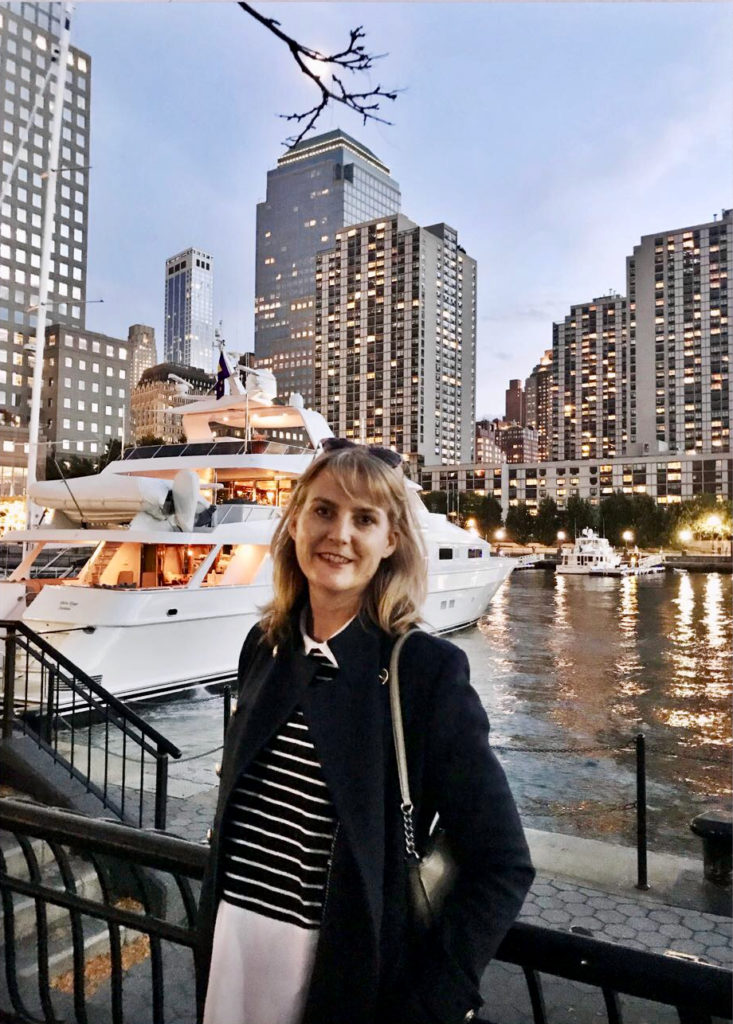 Literally a high flyer, Lisa Delaney ADCRG – Regional Head of Marketing and Digital Sales for Cathay Pacific Airlines, talks to us about her experiences in dancing, dealing with disappointment in her professional life and working in one of the most well known buildings in the World in the city that never sleeps!
---
Introduction – Tell us a bit about yourself? What were your favourite subjects at school, where did you study further education?
I started Irish dancing in Northern Ireland at the age of 8 and when we moved to Calgary, Canada a year later I joined the Houston Academy, where I danced up until and including university.
My favourite subjects at school were math, social studies and physical education. Whilst at school I played on all the sports teams from volleyball and basketball to cross country and track and field, as well as skiing and horse riding which all contributed to my general fitness level for dancing.
I studied business at the University of Calgary and obtained a Bachelor of Commerce Degree. Most recently, in April this year, I completed a two-year Executive MBA programme with CASS Business School in London which was a lot of work but highly rewarding.
Why did you choose to become a Marketing professional? Did you always know this was going to be your profession?
I did not know what I wanted to do career-wise from a young age and so I made sure throughout school I kept my options open. When I was at high school, I completed all of the sciences; physics, chemistry and biology as I thought I would like to become a psychiatrist.
When I graduated university, I had my heart set on becoming a management consultant and I interviewed at several of the consultancies recruiting from the university. I reached the final stage at my chosen consultancy and did not get the job. I was devastated and in fact, it was a life changing moment because that's when I decided to move to London. I was very fortunate to secure an account executive position in London at advertising agency, J Walter Thompson EMEA. All of the aspects that had attracted me to the consultancy industry I found at the ad agency. In retrospect I would never have thought of applying for a marketing job in Calgary as it was mostly oil and gas marketing which did not appeal to me. I think it is important to stay open to possibilities and it's okay to try different roles until you find the place where you can thrive. I am also of the opinion that if you do what you love you will always be successful.
What is your professional experience as a marketing professional?
I have worked for several different marketing companies and advertising agencies over the years and I have also run my own business. In 2012, I joined the marketing team at Qatar Airways. It was an exciting company to work for and I had several positions in London, Frankfurt, New York and back to London where I was responsible for the European markets. Currently I am working for Cathay Pacific also for the European region responsible for marketing, digital sales and PR.
New York was the toughest role but also the most rewarding in many ways. Our office was on the 76th floor of the Empire State Building (ESB) so the views were amazing. Unfortunately, I was in the ESB from sunrise to sunset as we were understaffed and had new launches in Los Angeles, Boston and Atlanta taking place within a very short period of time.
The pressure of competing at world championship level prepared me for the intensity of that role in particular and the resilience to never give up. It was sheer hard work and commitment, learnt from a young age as a dancer that allowed me to successfully complete the launches, and that which has stayed with me throughout my career.
What is your professional experience as a dancer, teacher, adjudicator?
As a dancer I competed in teams and solos at the World Championships and North American Nationals. When I gave up competing, I started teaching in Saskatoon under the tutelage of Rose Fearon. I taught for a year and obtained my TCRG before moving to London. After a short break, I started the Delaney Academy in 2000 based at the Hammersmith Irish Centre.
A few years later I had the opportunity to choreograph segments of a show called 'Fire of Dance'. It was a German production that subsequently toured Europe. The show opened the door for me to teaching in Europe and through a series of events, I ended up expanding the Delaney Academy into Prague and Warsaw. When I moved to New York nine years later, I handed over my school to the McGahan Lees Academy as it was not feasible to travel from NYC to teach (though I did consider it J).
In 2002, I obtained my ADCRG and that same year I started running grade exams in London. Over the years I have been fortunate to judge at the World Championships and regional qualifiers. This year I made the difficult decision to give up teaching however I hope to stay involved with the dancing through adjudicating.
When things didn't go to plan, how did you handle it?
There are so many times when things have not gone as planned! The first time I competed at the World Championships was a complete disaster. I was psyched out before I even got on the stage. I was so concerned about the competition that I did not dance my best. It was one of the biggest lessons learned and from that day onwards I decided to only focus on the aspects of my dancing that I can control. It changed the way I approach competition at a local, regional and world level. It took some time to regain my confidence but when I did, I came back a stronger dancer both mentally and physically. Irish dancing, similar to sports, teaches you mental fitness and performing on the World's stage is not too dissimilar to presenting to C-Suite in the boardroom.
How did you handle dancing competitively and studying for University?
It was not always easy dancing and studying at university, as well as balancing a part-time job. I would attend two dance classes a week which was a needed respite from my studies and at home I would get up early to practice before going to my university classes. I was flexible with my own practise schedule and if I had exams coming up, I would prioritise my studies over dancing for those few weeks. We had a running track at the university, so if I could not practise, I would go for a run to keep up my cardio fitness.
Did you take time out of dancing to study or did you manage both?
I have always managed to do both dancing and studying throughout my school and university years. In my opinion it is important to have an outlet and it keeps the stress levels down, which means you are more effective when you do actually sit down to study. Learning how to manage your time and focus on what's important is a vital skill that stays with you for life.
Do you think being involved in Irish Dancing has helped shape your professional life and helped you to develop key life skills?
Irish dancing has been a major factor in shaping my life. I was fortunate to dance a lot of teams from 2, 3, 4, 8 hands to choreographies with 16 dancers. The skills you learn from team dancing is often underestimated. In today's world, collaborations and teamwork, internally and externally within an organization, are imperative to the success of a company. Nobody is successful on their own. I appreciate and enjoy working as a team, listening to different perspectives and engaging with all the relevant individuals or departments because of all my years of team dancing.
One key aspect of Irish dancing that distinguishes our artform is the continuous evolution. Irish dancing has changed so much over the last 10-20 years. We are so competitive that we are continuously striving for the edge that will provide the winning combination. Within my role, I am always looking for that same competitive advantage, assessing companies outside our industry and analysing how my brand can stand out from the crowd. I definitely credit Irish dancing for this ingrained drive to constantly push boundaries and do better. Irish dancing like business never stands still.
Any hints or tips for dancers who want to stay committed to their dancing and maintain their studies, please feel free to add in any personal comments.
It is important to be a well-rounded individual and employers look for candidates that not only have the technical skills but also interpersonal, organizational and teamwork competencies, so I would not underestimate the value you gain from Irish dancing. This is in addition to the health and wellbeing you experience by dancing and keeping fit.