RCCEA ran their first online pilot feis in January 2021, this was the first for the region and the first online open feis in CLRG Irish Dance history!
The aptly named 'New Year Online Feis' had it's logo designed by the super talented Shelley Locklier. In the logo, Shelley managed to encapsulate what the online feis meant to dancers in our region. The image of a Phoenix to represent transformation and rebirth, the colour green to show resilience and growth, red for strength and gold for success.
Once the feis registration was opened there was huge interest immediately and the entry was amazing!! 789 dancers registered by the closing date from schools spanning Europe, the Middle East and Asia.
Parents, dancers and teachers went to all kinds of extremes to create feis stages for their dancers wherever they could. A great achievement for everyone during a time when most of the region were in the midst of a third Covid wave and strict lockdowns!
Many dancers had no access to studios or a feis stage, just small apartments and no option for outside due to  winter weather, but as the old saying goes, the show must go on and so did the feis!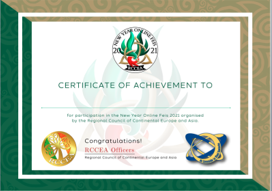 Dancers were delighted to be able to get feis experience, helpful comments from Adjudicators from all around the world and each were presented with beautifully designed certificates by Becky Chapman, TCRG.
660 of the participants were grade dancers who have not yet had much actual Feis experience and there were good numbers in Prelim and Open Championship level too.
Quickfeis and Video feis made the whole experience successful from registration to results. We also had wonderful feis music from Sean O Brien, all prerecorded and counted out in 32 bars, which really helped out dancers and parents.
This project was all done in less than 10 weeks by a small RCCEA workgroup of volunteers formed by Mary Sweeney with Dmitry Leshchev, Kathryn O'Connor Barton, Mara Cernat, Rachel Franzen and Shane McAvinchey.
The New Year Online feis 2021 was watched by all dancers, teachers and regional councils all over the world and we were proud to lead the way. There were many challenges working with the new platform and dealing with different cultures, languages and time zones but in the end it showcased how our regions has developed, how strong the standard is and how resilient our dancers and teachers can be.
A huge thanks to the International Work Group (IWG) for bringing this initiative to life, our feis musician Sean O'brien, Quickfeis and our adjudicators:
Marcus Maloney ADCRG, Ireland, James McCutcheon SDCRG, Scotland, Stephen Scariff ADCRG, USA, Chris Ryan ADCRG, Ireland, Vincent O'Connor SDCRG, USA, Annmarie Acosta Williams ADCRG, USA, Ann Byrne-Gibbons ADCRG, Ireland,Donna Reilly-Cannon ADCRG, Australia, Kathy Irvine ADCRG, Canada, Maire Treacy-Dixon ADCRG, Ireland, Cian Nolan ADCRG, Ireland, Mark Skehill ADCRG, England
 LuAnn O'Rourke-Boyd ADCRG, USA, Bronwyn Kelly ADCRG, Australia, Sinead Brooks ADCRG, England, Margaret Cleary SDCRG, USA.
Although nothing beats a live feis experience, we will enjoy online feiseanna until we can all meet again in person!
Congratulations to all involved and THANK YOU to the CLRG for accrediting the Feis and showing how innovative and forward thinking the organisation can be.
We are very grateful for this experience and look forward to our next online feis.
Dancing, Together, Apart