So you want to engage all of your dancers, parents and families? Why not have a Kahoot Quiz!! You can sign up for a free account and it saves you all of the marking that goes with it!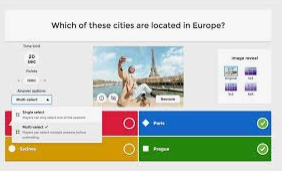 We trialed Kahoot with some of the teachers during lock down and a massive congrats to the quiz king Gerard Carroll for winning! It was a lot of fun and the marking is instant and so are the results. There are many pre-existing quizzes which already exist and can be reused with your families. The best bit is, the only thing they need is a screen for the questions and a mobile phone / tablet to answer the questions on.

Many teachers have asked for activities to do with their families, here is a simple YouTube tutorial made by Ray Chambers (TCRG) which will help you put your own quiz together. It walks through the sign up process through to how to create your own quiz.

The teacher accesses their quiz through kahoot.com and they share their screen. The access code is displayed on the screen and the dancers access the quiz using kahoot.it with their access code. Most students have been using this in their classes rooms and will be able to support parents.
Good luck and Enjoy!