Lord of the Dance held virtual zoom auditions at the start of October for their upcoming tour in Taiwan – dubbed the impossible tour,  due to the COVID19 pandemic. Fast forward to November 2020 and 90 Irish Dancers flew to Taiwan and became the first Irish Dance Troupe to go through a full two-week hotel quarantine upon arrival in Taiwan. Following the quarantine these dancers performed 8 sell out shows in 6 days!  Here at CEIM we have interviews from 4 cast members, Callum O'Neill, Tiernagh Canning, Gareth O'Connor and Lauren Finglas who have taken the time to share their experience with us and offer a few words of wisdom for aspiring professional show dancers. A huge thanks to these dancers for their interviews and to their teachers for their help in putting them together. 
Tell us a little bit about yourself, who do you dance for, how long have you been dancing, what are your major dancing achievements?
My name is Callum O'Neill, I dance for the Carey Academy and have been dancing for over 10 years! My major dancing achievements are winning the World Championships, Great Britain Championships, North American nationals twice and the British nationals twice. I have also been lucky enough to have always placed within the top 5 at the World Championships. 
Have you always wanted to be a professional dancer and was this your first experience of touring with a major production?
Ever since I can remember, being apart of a professional Irish Dance show was the ultimate dream of mine. To be able to perform in front of thousands of people a night and to travel the world is surreal. Feet of Flames was my very first experience of touring with a major production and I was lucky enough to have been able to share this experience with some of my closest friends as it was also their first experience with a major production too!
How did you find the two-week quarantine? Did you continue with any academic studies or training with your dancing class while you were in quarantine?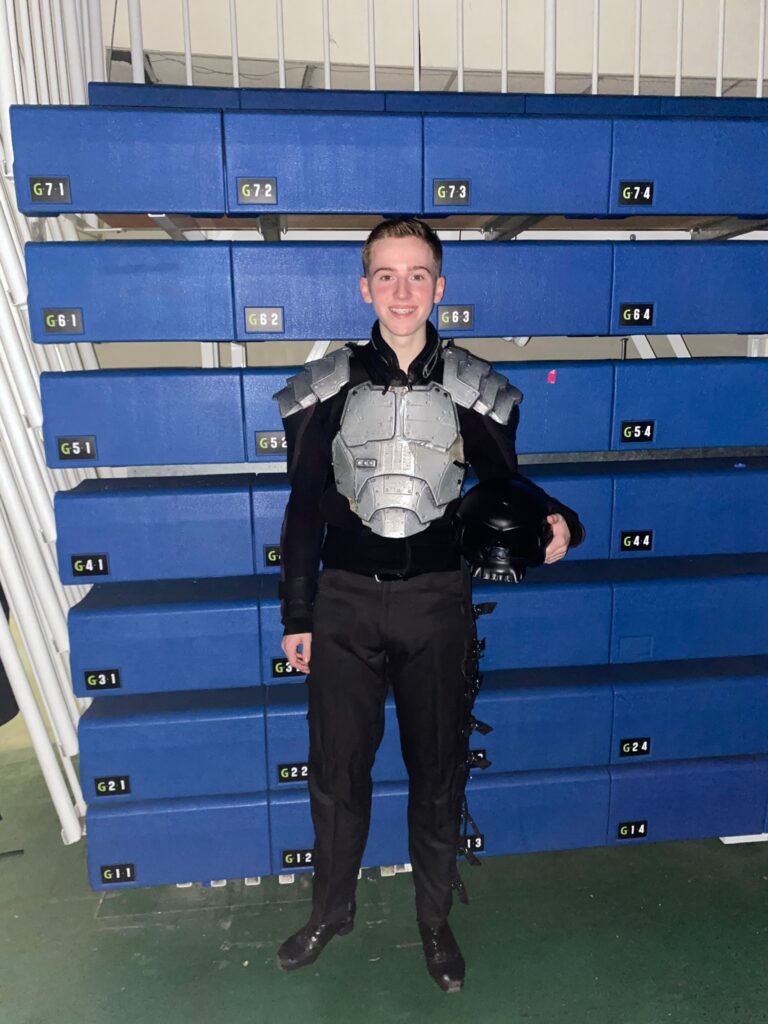 The two week quarantine was a struggle as it felt strange to be away from civilisation for so long! I had no academic studies to do throughout the time as I decided to work instead of going into further education. So to help pass my time I filled my day with workouts to help maintain the level of fitness which was appropriate for such a major production. As well as this, our days were filled with zoom rehearsals, yoga, fitness classes and mobility classes led by the dance captains and members of the cast. We'd also all join in with quizzes just to help each other keep our spirits up and help to make our time much easier. But because of social media it did make things easier as we were all able to communicate with each other to help us get through it!
Tell us the main differences between training to perform in a show compared to training for the World Championships?
The difference between training for the World Championships and performing is huge, as well as having to remember the basics of Irish dancing, you also have to think about your facial expressions, the spot you're supposed to be on and making sure your head and arms are always positioned correctly and to bring them up or down on the correct timing. As well as this every person in the troupe has to look the same to get the maximum effect of this number, so this could also mean adapting your style of dancing to maximise the effect of the performance. The cast only had two and half days to rehearse together before the night of the first show, so as you can imagine the days were long and draining but were so worth it in the end! 
Tell us about the opening night of the show, were you nervous, excited, anxious or could you not wait to get out on stage?
On opening night my emotions were through the roof, I can't even begin to explain what was going through my head, the mixture of nerves and excitement sum it up best! But the one feeling that took over was how much I wanted to go out and perform to an audience as it had been 10 months since I'd even danced at a Feis let alone an audience of thousands of people! No feeling will ever be able to beat that first feeling of my first show despite the nervousness! 
What are your goals/dreams for the future, do you want to return to competing at a high level or would you like to get back on tour?
In the future I would love to be able to tour with Lord of The Dance again as it's always been such a huge dream of mine! With concerns to competition of course I would love to be able to dance at a feis again and just remember that bit of normality however with everything going on in the world we don't know when that will be! 
Do you have any words of wisdom for our younger aspiring readers who would like to follow in your footsteps and tour with a major production?
If I had any words of wisdom for any aspiring dancers, it would be to never give up in what you wish to achieve and never think that anything is impossible! Nobody thought that in 2020 an Irish Dancing troupe of 90 dancers would be able to do a tour all the way in Taiwan, so it that just goes to show how nothing is impossible! Another thing is to always listen to your teachers as they are always striving for you to be the very best you can and to help you achieve what ever you want to achieve!