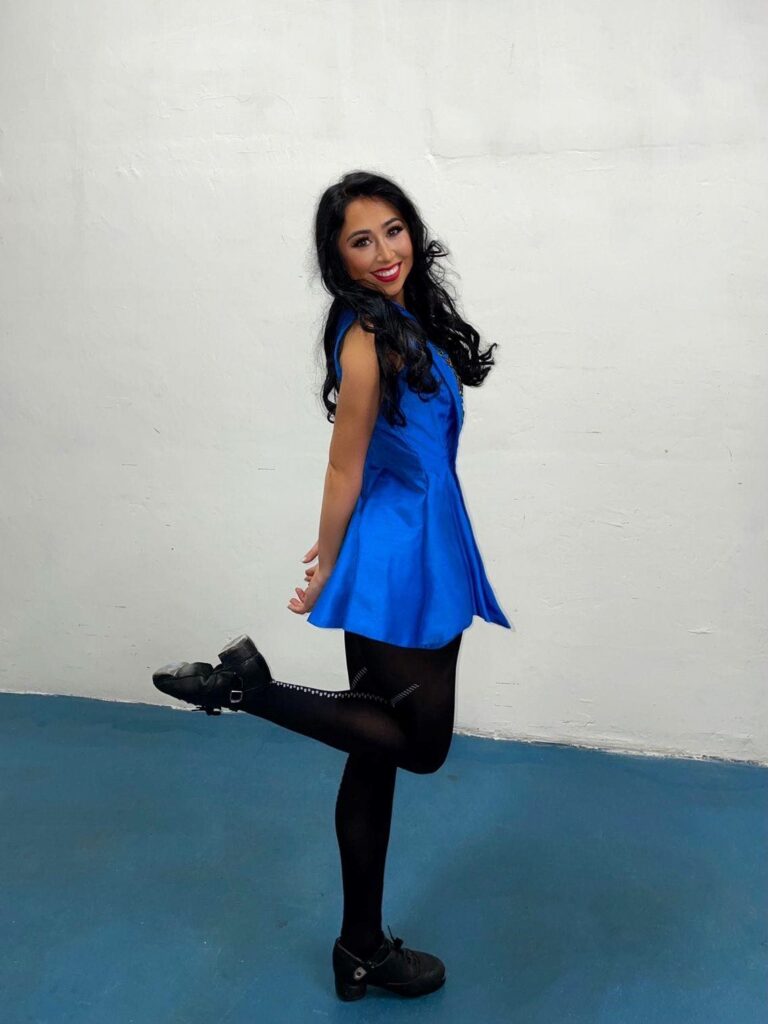 Lord of the Dance held virtual zoom auditions at the start of October for their upcoming tour in Taiwan – dubbed the impossible tour, due to the COVID19 pandemic. Fast forward to November 2020 and 90 Irish Dancers flew to Taiwan and became the first Irish Dance Troupe to go through a full two-week hotel quarantine upon arrival in Taiwan. Following the quarantine these dancers performed 8 sell out shows in 6 days! Here at CEIM we have interviews from 4 cast members, Callum O'Neill, Tiernagh Canning, Gareth O'Connor and Lauren Finglas who have taken the time to share their experience with us and offer a few words of wisdom for aspiring professional show dancers. A huge thanks to these dancers for their interviews and to their teachers for their help in putting them together.
Tell us a little bit about yourself, who do you dance for, how long have you been dancing, what are your major dancing achievements?
My name is Lauren Finglas, I'm twenty years old and I live in a small town named Drogheda in Ireland. I've been dancing since I was three years old. I dance for the Carson Kennedy Academy in Belfast. I'm very fortunate to have had an amazing dancing career and I'm beyond grateful to my teachers in helping me accomplish some of my many goals over the years. One major dancing achievement that I'm very proud of is when I won the World Championships in Glasgow for the second time. It was truly a dream come true to have defended my title and relive the most incredible feeling of becoming a World Champion once again.
Have you always wanted to be a professional dancer and was this your first experience of touring with a major production?
I've always wanted to be a professional dancer ever since I was younger. I grew up watching all the major productions, especially Riverdance and Lord of the Dance. In my opinion it was completely different from competitive Irish dancing. A new perspective of Irish dance was discovered, and this created new elements of skill and style which added to our cultural sport. Last November I had the opportunity of touring with Titanic Dance Production, but this year was my first tour with Lord of the Dance and it was truly one to remember.
How did you find the two-week quarantine? Did you continue with any academic studies or training with your dancing class while you were in quarantine?
In my opinion, the two-week quarantine was mentally challenging at times. Being confined to one space and not being able to leave when you wanted was a difficult situation to comprehend. Luckily, my days were filled with a busy schedule. I had many university assignments to focus on and plenty of scheduled LOTD zoom classes to keep me occupied. I was thankful for the workload I was given over the two weeks as my lectures and zoom classes kept me physically fit and mentally active. The consistency of a daily routine is what really helped me get through the two weeks of quarantine.
Tell us the main differences between training to perform in a show compared to training for the World Championships?
In my opinion, there's very little difference when training to perform in a dancing show or when training for the World Championships. I believe that the same key attributes are required, mentally and physically when training for both. It requires the same motivation, determination and focus to ensure that your physical ability is at its best. Ultimately, the end goal is the same, you want to be the best dancer you can be and that requires the same amount of hard work in preparation for any dancing performance
Tell us about the opening night of the show, were you nervous, excited, anxious or could you not wait to get out on stage?
I was overwhelmed by so many emotions on the night of our opening show. I was so excited yet in slight disbelief that I was finally performing in the show that I'd always dreamt of dancing in. It was a surreal feeling. Strangely, I wasn't nervous yet a little anxious but overall, I was extremely excited to get on stage and embrace every moment
What are your goals/dreams for the future, do you want to return to competing at a high level or would you like to get back on tour?
At the moment, my goals are to continue dancing and to keep myself physically fit. I can't wait to perform again whether it's competing at a competition or touring the world with a show. I'm unsure of what the future holds but I hope to find my way back on stage sooner than later
Do you have any words of wisdom for our younger aspiring readers who would like to follow in your footsteps and tour with a major production?
My advice to the younger generation is to continue working hard and strive to be your best. Follow your dream and aim to be the best dancer you can be. Dance with passion and let your love for dancing shine through every performance you give