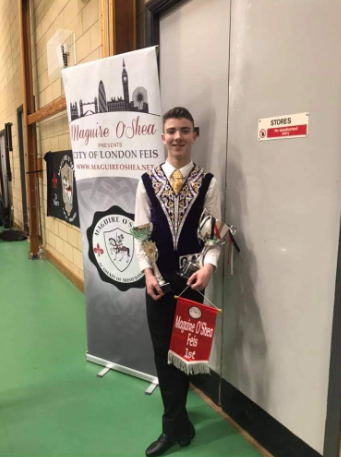 Today's article comes from Ciaran Keogh a 17 year dancers from Crumlin, Dublin. He dances for the Aisling Keogh Academy in Dublin. In 1969 during the split of Irish dancing organisations, Ciaran's grandmother joined An Comhdhail and his mother continued to teach under An Comhdhail until 2015. In today's article, Ciaran will share an insight into what it was like to transfer from one organisation to another.
My name is Ciaran Keogh and I am 17 years old. I live in Crumlin, Dublin and go to school in Templeogue. I'm a 5th year student.

Hobbies: –
I Irish Dance for the Aisling Keogh Academy in Dublin and I play Gaelic Football for St Judes in Templelogue.
How did Irish Dancing come into the family?
My mam and I are the 3rd generation of Irish dancers in my family. My grandmother was Lil Tully who was one of the founder members of An Comhdhail. She danced for the Lilly Comerford school of Irish dancing in Dublin. Like many other teachers in Leinster, when the organisations split in 1969, my grandmother went to An Comhdhail.
What age did you start dancing at?
I started dancing when I was 5 years old. Like many other dancers, as soon you can walk, you would hear the Irish music and it would grow from there. My mam would always bring me to Irish Dancing classes with her. I was always dying to start competing.
What was it like the first time you entered a competition?
It was a good while ago, haha and I'd say like most of the people my age I was quite nervous. It was exciting to try something new and It was very different to practising in class.
What age were you when you joined commission?
I was 11 years old
Why did you leave An Comhdhail?
Prior to the year that I left An Comhdhail, I had won two World Titles in a row and the 2nd one gave me a perfect score. I felt like I needed a bigger challenge with more competition. I always felt, even if I never won the worlds again, I would become a much better dancer due to the number of major competitions which CLRG offered.
For example the All Scotlands, Great Britains and the Irish Nationals are some of the biggest events of the year and there would be more boys in all the competitions. In An Comhdhail, you would only have the Leinster Championships before the world championships.
Do you have to qualify in An Comhdhail?
No you just have to compete in the regional championships to have a place in the world championships.
What other differences did you find between both organisations?
In An Comhdhail, I would have only danced on a stage if the venue had a prebuilt stage. In CLRG, every feis is required to have at least one stage. Another big difference that I noticed was that in An Comhdhail, most of the competitions were in Dublin or the surrounding area. In CLRG you would have competitions in every province on a weekly basis. There was more opportunity.


Within the first year with CLRG do you feel like you settled in well?
I found it quite daunting at first. When you come from somewhere, where you know pretty much everybody to knowing no one, it can be a challenge. I felt much better as time progressed and I settled in quite nicely and started to know the people in my own age group. As an added bonus I won the Leinsters that year and haven't looked back since.
What have been your 3 highlights in CLRG to date?
I think one of the highlights for me would be chosen to perform for the opening ceremony for the 50th anniversary of the world championships with an Re Orga.
Another highlight would be taking part in the CLRG treble reel challenge during the Covid pandemic with the Gardiner Brothers. This involved dancers worldwide to submit a treble reel step with the hope of getting to the final of the top 10 to collaborate with the brothers. I was lucky to be picked as one of the top 10 people and it felt like a great achievement.
My final highlight is that I've been able to sustain the Leinster Championship place since moving to CLRG. I have also managed to achieve top 5 at a number of major events including 5th at the most recent All Ireland Championships in 2020.
Do you have any regrets about moving to CLRG?
No I don't. I have gained so much more experience in my dancing career and I have also made a lot of new friends especially the lads in my own age group. Which are the U18 boys. There's always respect between all of us on and off the stage and especially when the dancing is over, we have the craic socialising and mixing with other age groups.
As CLRG is worldwide I've got to meet so many different people from different parts of the world and that collectively has given me great memories to take with me for life.