The impossible became possible on July 6th-10th 2021 when the Western US Region hosted The United States National Irish Dancing Championships in Phoenix, Arizona.
With more than 4000 solo competitors, it's the first time a large scale Irish Dancing event has gone ahead since COVID-19 held the Irish Dancing community hostage just a year ago.
From dancers to musicians, to the esteemed adjudicators, here's a Behind the Scenes look at how it went.
DANCER
Priscilla Smedley
Michael Patrick Gallagher School
As unsure as these past two years have been, the buildup and preparations for the United States National Irish Dance Championships (Nationals) were a well needed escape from the stress caused by the Coronavirus. A majority of Irish Dancers, myself included, have not attended a major competition in over two years, and that is what makes this year's Nationals such an incredible opportunity. Not only did it give me something to look forward to, I was able to see familiar faces from all over the country, friends that I would not see otherwise. Despite the risks of COVID, Irish Dancers were able to compete and return to the routine of major competitions.
This National Championships were held at the Phoenix Convention Center, a perfect venue for social distancing the large number of competitors and attendees. Initially we were told that we were only allowed one spectator. Due to the large venue and Phoenix's relaxed COVID restrictions, I was thrilled to learn that dancers would be allowed two spectators. All seven ballrooms were massive enough to hold more than one hundred dancers with their two spectators, event volunteers, staff and officials. The ballroom layout consisted of three-chair pods spaced six feet apart which provided each dancer and their spectators with enough space to social distance, stretch and prepare for their competition.
A really cool aspect of this Nationals was the use of the Guidebook App for the official program, recalls, results and notifications. This was ecologically sound and a major convenience as everything I needed to stay on track could be found right on my cell phone. Another noticeable change was the use of split stages. Basically, the usual 60 by 24 stage was divided in half to allow two dancers to dance at the same time without coming into contact. Although I would have loved to dance on a full stage, it was nice to simply be on stage and dance.
As I have gotten older, I am more aware of what goes on beyond the dancing at a major competition. This year, more than any other, I truly appreciated the efforts of all the people it took to give me my long awaited return to the stage. The organizing committee entered into uncharted waters with organizing a COVID-era major competition that saw an all US and Mexico National championship to the inclusion of preliminary champions. There may have been some issues throughout the week, but I myself appreciate the amazing effort the committee undertook to get more than 4000 dancers on stage.
Additionally, many TCRGs had students dancing in several ballrooms at the same time each day. I watched my TCRG run from ballroom to ballroom, barely able to catch a moment's break. The TCRGs also volunteered to stage manage and announce awards. The increased number of dancers also created more work for the hair and makeup vendors who started their day at 4:00 am and continued until the awards started. The larger numbers made for five long competition days for TCRGs, musicians, judges, volunteers and event organizers. Yes, my competition day was long, but it was only one long day for me, a long fantastic day that I would not change for anything.
MUSICIAN
Annmarie Acosta
It was a blessing to have an event for the kids to attend together, and a step in the direction of normal. It is much needed for many reasons, social, competitive, and mental health included.
As a musician, I was honored to be part of it, though it was tougher than a typical event due to the number of competitors increasing significantly, while the number of musicians remained the same as it had been in previous years. Some of the musicians had not previously played a National event and it was great to have them in Phoenix and on board! We are fortunate to have many talented colleagues. At the same time, we missed those who were unable to attend.
The Friday night session was the highlight of the week and many new memories and friendships were formed. Tunes were played, songs were sung, and dancers took to the floor for the enjoyment of performing and nothing else.
ADJUDICATOR
RUSSELL J. BEATON, SDCRG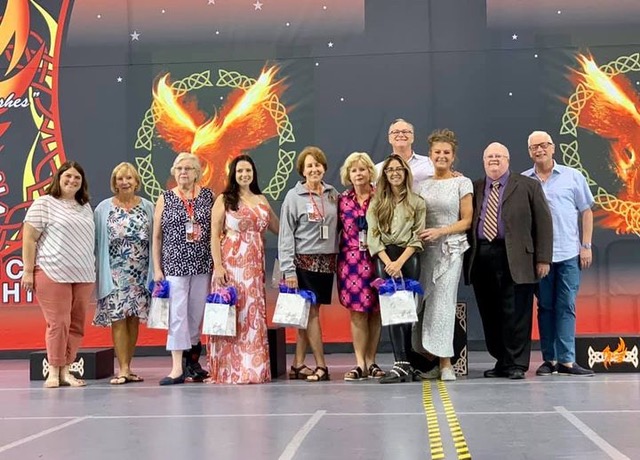 As I walked from the hotel to the Phoenix Convention Center on Tuesday morning, July 6, 2021, there was a real sense of anticipation and excitement in the air. Dancers, family members, teachers, adjudicators, and musicians were all moving with definite enthusiasm and eagerness. We were all very ready to take part in the first major Irish Dance competition since the Covid 19 pandemic had struck our world and brought things to a sharp halt.
The convention center spaces were organized to allow for appropriate social distancing, everyone was expected to wear masks, and there were reminders about following local government restrictions. The organizing committee from the Western US region (chaired by Pat Hall, ADCRG; Sharon Whelan MacSweeney, ADCRG; Judy McCafferty, SDCRG; Kieran Noe, TCRG; and, Kristin Hahn, TCRG) had spent long hours planning for every aspect of the competition, despite constantly changing realities and challenges.
I took my place on the raised judging platform in one of the competition spaces with my colleagues Carol Pirsztuk, ADCRG, and Jill Etoll, ADCRG. When the first music was played for the hard shoe round, I became a bit emotional. It was hard to believe that I was really here, with dancers from across the US, listening to talented musicians, and about to get "back on track" with a major dance championship!
The dancing was a true delight. I admired the dancers for being so well prepared. I experienced two hard shoe rounds, two light shoe rounds, and one set dance round that first day. It was a busy day, but I was filled with joy at being involved in a major championship. I loved the way in which the stage was divided into two very distinct sections, and dancers generally stayed on their assigned sides of the stage. This allowed us to observe each dancer clearly without the chance of collisions or crowding. This was a change that I would highly recommend for future major events.
I was aware that dancers entered could be from the usual open championship level as well as from what was referred to as preliminary levels (non-open championship dancers), and I can honestly say that I enjoyed all performances. In many cases, I could not have told you what level the dancer was. I was amazed to learn that more than 800 dancers were participating in a national championship for the first time!
I had the pleasure of judging parts of many age groups over the week, but I must say that my absolute favorite events during the week were the Under 8 Girls and Under 8 Boys Championships and the Under 8 Traditional Set competition. These youngest competitors were simply delightful! They were filled with enjoyment, excitement, energy, and big smiles! I was impressed by their overall strong rhythm, good upper body control, and self-confidence!
I salute my adjudicating colleagues for their hard work; it was very gratifying to be with all of you doing what we all love. I sincerely thank the 14 musicians who accompanied the dancers all week. The music was excellent and added so much to the overall joy of being back to competition. Bravissima to all!
I very much missed having team dance competitions, which I hope will return to our stages soon. I can tell you that I feel very blessed to have been an adjudicator at this first-ever United States National Irish Dance Championships. Congratulations to the organizers and the many volunteers for a highly successful event. Lisa Petri, ADCRG, IDTANA President, noted in her closing remarks that, despite lots of skepticism, we all "made it"! Here's hoping that this will be a model for other Irish Dance events that will be returning to their stages very soon worldwide,