Tara Hanlon is an Olympic Rower from Co Cork. This year she traveled as the reserve. with the Irish women's rowing 4 to the Olympic Games in Tokyo, Japan, where they won bronze medals. She was one of 15 athletes chosen to attend the Opening Ceremony in the Olympic stadium. Tara herself won a bronze medal at the U23 European Championships in 2020 and a silver medal in 2019 at the U23 World Championships in woman's costas 4 in Sarasota, Florida. She danced from a young age in solo and teams, as well as travelling to festivals and shows abroad.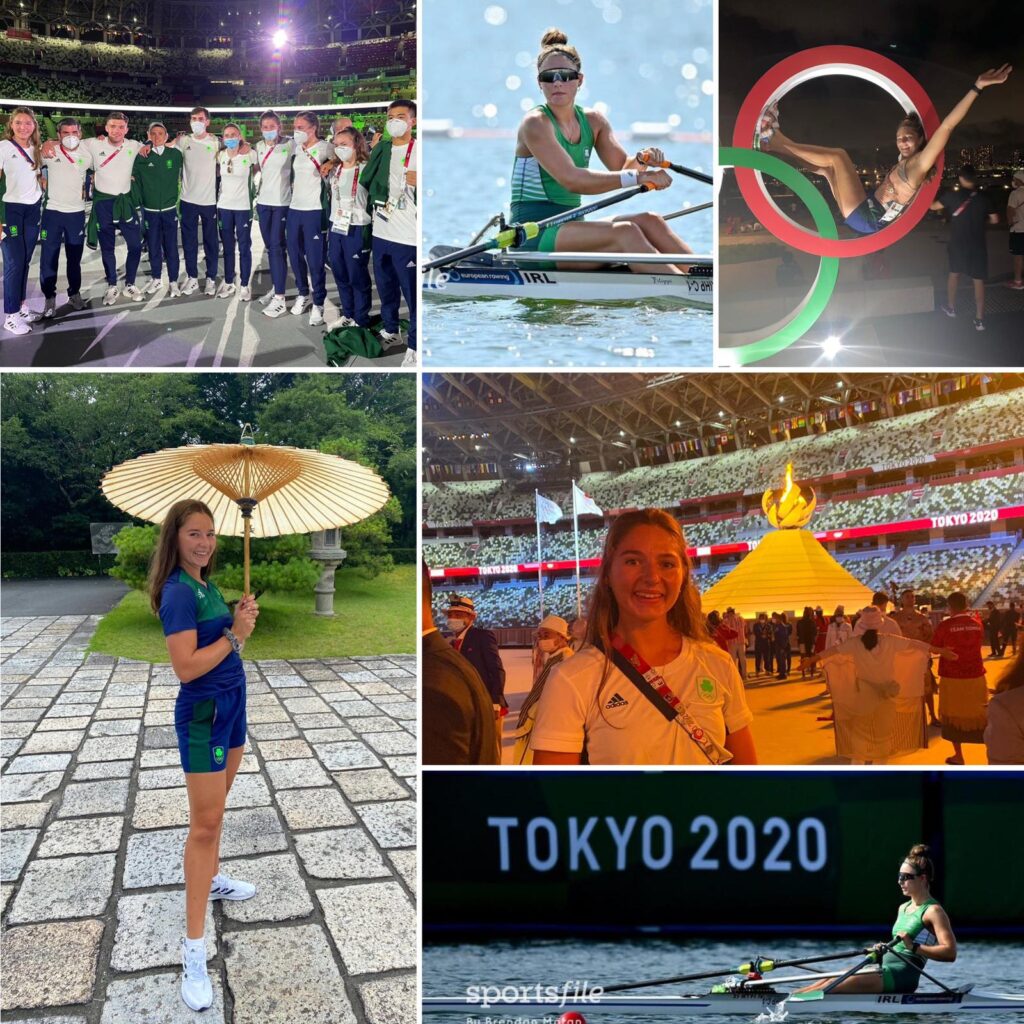 How did you get into Irish dancing?
I started dancing during school at 4 years old, and absolutely loved it from the get go. That led me to join Irish dancing classes when I was 6, outside school with the Troy O'Herlihy school in Cork. My Mother had been a dancer so was keen for my sister and I to dance. It wasn't until I was 9 that I decided to start competing in Feiseanna, before that I just loved going to classes every week and seeing dance friends. I did pretty well in competitions, and went up through the grades pretty quickly. I struggled a bit in Méan grád, with harder steps and I was a bit awkward, but I worked hard at it. I competed at both the Mini Munster and Munster Championships in solos.
While I enjoyed the challenge of solo dancing, I found my real passion for dancing through teams and Ceilí. I always found dancing to be geared towards individuals. For me, like rowing, I love the team aspect of sport and what that entails. Working together for a common goal and having the back up and support of a team suited me more than dancing on my own. I am a very competitive person, so teams suited me better, as I always wanted to win! My dancing school put a big focus on team dancing. I danced in 2/4/6 hands as well as Ceilís. I even went to the Irish nationals one year with my 8-hand.
While I loved teams, the best thing about dancing for me was travelling to festivals abroad with my dance school. I travelled to Italy, Poland and Austria over three years with a group of other dancers from my school where we attended dancing festivals. It was amazing to have the opportunity to travel with Irish dancing, and see different countries and cultures, as well as dancing everyday with my dance friends. We put on performances during the day and danced in parades. Lots of other traditional dance troupes from other countries also attended. We would have competitions between different styles, and we would always win! I can't even describe how much fun I had.
Do you think Dancing helped prepare you physically for Rowing?
Irish dancing helped hugely with my rowing career. There is a big crossover with fitness and posture. In 2016, while I was still attending dance classes, I competed for Ireland for the first time as a Junior, and won the silver medal. I went on to win 4 national Irish Championships.
Dancing gave me such an edge on the other girls in terms of fitness because I had such good stamina. Rowing is a mix of aerobic and anaerobic fitness. A 2000 km race will take 6-7 minutes while a dance will take 90 seconds. Although dancing is a lot quicker per say, I got all of my sprint fitness from dancing. Finishing a good full out Hornipe or Slip Jig was such great training for rowing. My Irish Coaches loved that I danced, as it gave me such an advantage, as well as the strong core and calves it gave me! They constantly raved about my posture as a lot of people slouch down in the rowing boat. I would automatically sit up tall, as it was natural to me after years of dancing.
Did any other aspects of Irish dancing crossover into your rowing?
Rowing is a sport that you start in later life, the youngest age group is 12. I got into rowing when I was 14. So having danced since a young age I was already used to competitions which really toughened me up for rowing. From a competitive point of view, dancing taught me a lot. I learnt early on that you can't always win, but as long as you try your best and enjoy it you're already winning.
Dancing competitions made me learn to enjoy the process. If I didn't get the results I wanted or I wasn't dancing my best I always tried to remember why I was doing it, because I loved to dance. I always made sure I was dancing for the right reasons. This really stuck with me, when in 2015 I went for the Junior Irish rowing team and I didn't get it. It made me so determined to work harder and get it the next year.
Irish dancing taught me how to work as a team, and about sportsmanship. Sometimes my Sister would win and I wouldn't. I learnt from a young age to support those who won, that it wasn't my day, but that how that was ok, because the next Feis it might be and others would then be happy for me. This year was particularly tough for me in rowing, as I was chosen as the reserve for the Olympic team. It was difficult to hear that I didn't make the Olympic team, however I wasn't going to wallow in self pity. I took on the role fully and was the best reserve I could be. I supported and pushed the four girls on and was ready at any point to jump into the boat. I think I learnt that hugly from dancing, as in teams sometimes I would have to jump into someone else's spot if someone was sick/injured or take someone's spot for a festival. I learnt to always stay mentally prepared and focused because of that. This experience has taught me that I really want to go for the Paris Olympics, go for a medal and be the best that I can be.
Dancing is so intricate, and there is a lot to it from timing, rhythm, technique and remembering steps, it is not as easy as it looks, whereas rowing is a lot more basic.
In rowing if you make a mistake in a 2000 metre race, it's not the end of the world and you can pull it back. In dancing, if you make a mistake in your dance, you're gone. The pressure is high, which hugly prepared me for rowing. Dancing is highly subjective, which I always found hard to comprehend. You could dance your absolute best and not place, or dance ok and win. Whereas in rowing, you receive a time, and can see the numbers for yourself. You are either faster than someone or they are faster than you.
What was the Olympic Opening Ceremony like?
I felt so privileged to be able to walk in the opening ceremony in Tokyo, as lots of the Irish team members could not as their sport had already started that day or was on the next day. As I was the reserve, I was one of 15 chosen to attend. While walking, Kelly Harrington (who took the Gold in Women's boxing) had the idea to bow to the crowds and volunteers as we were coming out, which went down a treat. I was already an expert 'bower' because of dancing! It was so appropriate and a nice way for us to show our appreciation to the Japanese people. They truly are the kindest and most polite people I have ever met. It was amazing to represent Ireland, waving to the crowds in the stadium, knowing that millions were watching from home and from all over the world. It was a phenomenal experience and something I will never forget.
Do you have any advice for dancers on how to balance activities with school?
'Get yourself a schedule, and stick closely to it. I learnt that I can't do everything. For me dancing took a back seat so I could focus on rowing and school. I was training 10 times a week, so I had to learn to schedule my time, to fit everything in. Get your school work done early and on time, and then go to class and practice. However, it is also really important to take time out for yourself. Go see friends, read a book, go shopping, whatever it is you do to unwind, make sure you work that into your time too.It is all about balance.'
What is your biggest highlight from this year's Olympic games?
My 4 teammates winning the bronze medal in Tokyo was incredible. As I am so close to the girls, training night and day, I had ultimate confidence in them. They put in a huge amount of work as did rowing Ireland, so it was incredible to see them get over that line. For me as the reserve, I don't want to be a reserve for a boat that's coming last, I want to be a reserve for a boat that's winning an olympic medal and that is what they did. I am so proud of Irish rowing and how they stand on the world stage. Fintan and Paul, the Men's rowing team, winning gold was also amazing. However, my highlight was definitely witnessing my teammates win the bronze medal for Ireland.
You have a bright future ahead of you, where will you go from here?
I am going into my final year of Commerce in University College Cork, so I will be taking a small break to focus on my degree. However I will then be going straight back into training. Paris is only three years away, and only two years to qualification. That is my focus. As an athlete, my message to get out to any dancers and athletes is to enjoy the process. As two World Championships were cancelled, it has been difficult for dancers to stay motivated. What I have learnt is that it is not all about Paris and about that one race. Obviously I want more than anything to get there and I want to win a medal. I know I have the ability and could do it, but at the same time you never know what will happen in three years.
You need to enjoy every minute of what you do. Don't do it because you want to win, do it because you love it. You can't train every day of your life, if you don't love what you are doing. It is about enjoying the moment, every time you get on that stage or get into the boat, remember why you are there.